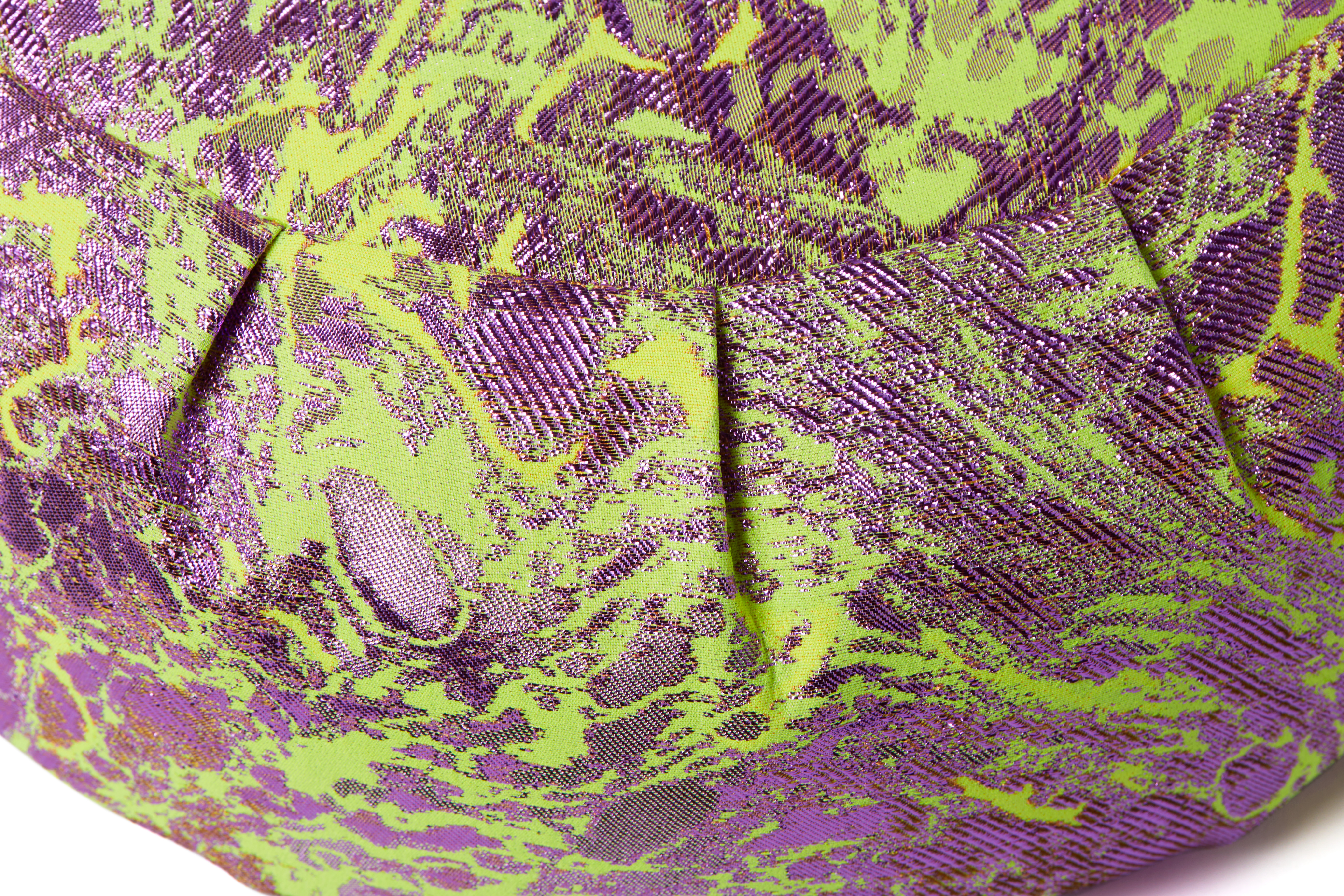 TRIPPY THE MEDITATION PILLOW
Elevate your mindful and interior space with a touch of serenity and purpose. The "Trippy" Meditation Pillow a compact 11-inch or 15-inch diameter x 8.2 inch sancturay of tranquility made from premium fabrics, originally designed for Gucci by Jakob Schläpfer. Handmade and packed with the finest natural fill of organic millet or spelt hulls, and delicately infused with handpicked lavender.
FABRIC
Unearth the essence of

Jakob Schläpfer's
repurposed handsawn deadstock fabric, initially crafted for Gucci, redesigned by Annabelle and Yvonne (Echo Echo) who initiated the idea for the product amidst the fashion industry's pandemic-induced upheaval, while this fabric emerges as a symbol of adaptability and resilience.

The pattern, adorned with shimmering threads, weaves a narrative of light, hope, and interconnectedness. Let the "Trippy" guide you through a mindful journey of stillness amid life's whirlwinds - a multidimensional escape that transforms chaos into clarity.

FILLING
Nestled within the "Trippy" Meditation Pillow is a natural fill of either organic millet or spelt hulls, offering a comforting and customizable support for your meditation sessions. Infused with a touch of nature, each pillow is riddled with handpicked lavender, enhancing the sensory experience and enveloping you in a soothing, aromatic embrace.

Elevate your meditation practice with this harmonious blend of organic, all handcrafted, elements, ensuring a serene and grounding journey every time you settle onto the "Trippy."

Design by ECHO ECHO: Yvonne Wigger + Annabelle Schneider



DIMENSIONS


Small 28 cm diameter x h. 21 cm / 11 inch diameter x 8.2 inch
Price USD 229

Medium 38 cm diameter x h. 25 cm / 15 inch diameter x 10 inch

Price: USD 259

----

Limited EditionThe fabric was sourced from High-Fashion deadstock and is therefore one of a kind. Pillows are available in limited quantity.